The place to meditate: Eihei-ji temple in Fukui
2018年 10月02日
On the east coast of Japan, south of Ishikawa prefecture, Fukui is the birthplace of Zen culture in the archipelago. This area worths the trip because of this stunning sceneries and beautiful cliffs along the coastline. It is quiet easy to access it by shinkansen from Osaka, and you will move very easily from north to south of the prefecture via the JR Lines.
There, you would visit some of the oldest Zen temples in Japan. On the east of the mount Daibutsu jisan and mount Kengadake, and not far from the city of Fukui, you would find lots of Buddhist temples lost in the forest and large parks.
One of the oldest is the Eiheiji temple established in 1244 by Dogen Zenji, founder of Soto Zen Buddhism, who defined it as : "Zen is just sit without thinking, forgetting the body and mind. Give up body and mind, and sit right in Buddhism by practicing with other without biases, and then you reach the "
It will be your first wish when you will enter this large and majestic redwood forest surrounding the temple. Don't forget to experience meditation inside the temple, it is available throughout the year !
(info@fukuitourguides.org).

Take time to walk around and visit other beautiful temples. Walking south, you will easily reach the Aiiwayama park, so you will walk among the trees, and admire ancient stone carvings, temples and bonshō (great bells used to call monks for the prayer.)
A small stream cross the park above which are built small wooden bridges, this is a ride not to be missed !
The city of Katsuyama retains one of the biggest Buddha statues in Japan, high over 17 meters (taller than the Nara Daibutsu) and the temple built on a hill offers a breathtaking view on the city and the surrounding mountains.
Do not miss the opportunity to enjoy traditional cuisine such as the Zen Shojin yori, the famous vegetarian cuisine. You will also taste the "gomadofu" which is tofu made from sesame seeds that you can eat with miso (fermented soybean paste). You will also find grilled tofu called "abraage", staple food of "kitsune udon" (kitsune means fox in Japanese). According to the legend, the abraage is the favorite food of the fox.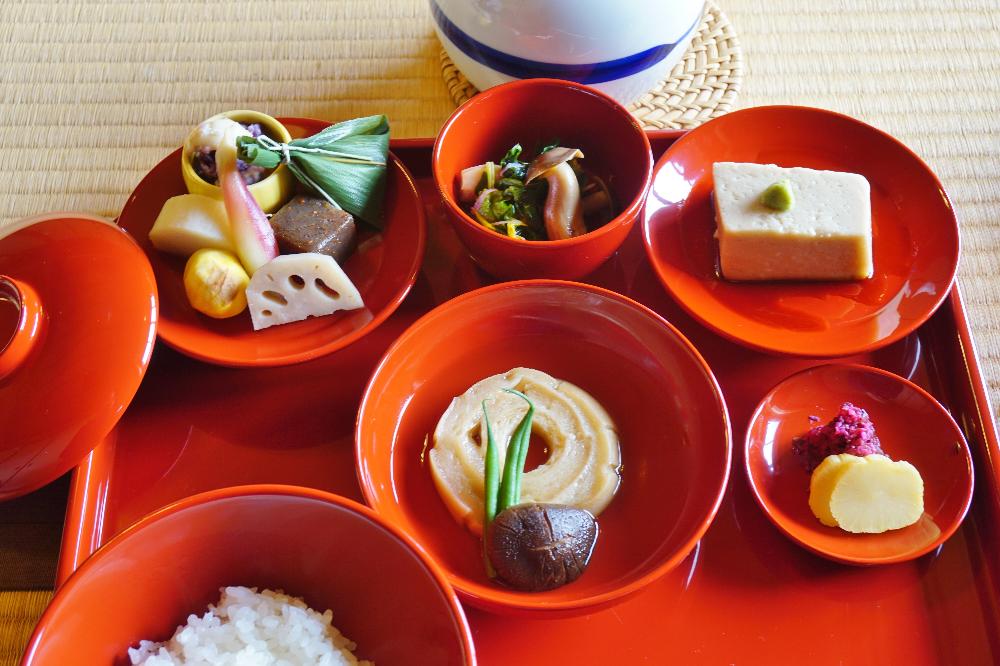 In south of Fukui prefecture, the city of Obama offers one of the most beautiful natural sites in the region with its strangely shaped cliffs, waterfalls and caves stretching over kilometers. You can enjoy a cruise and admire the beautiful coastline. (Note that the boat trips are available from December to February). You would also enjoy sea kayak ride near "Ano beach" located 7 kilometers from Obama station or many other activities such as Echizen hot springs. Those are ocean view hot springs, usually open until 10 pm giving you time to relax while contemplating a magnificent sunset.
If you are traveling with children, do not miss the Fukui dinosaur museum near Katsuyama where you could make some excavations as a paleontologist !