Our 3 recommended spots in Izu
2019年 10月23日
What about IZU?
The Izu peninsula extends south from Mishima City in Shizuoka Prefecture. Many leisure spots and beaches scattered over the Izu area can be reached in about 2 hours by car or train from Tokyo. You will be soothed by the spectacular landscapes created by the sea, mountains, and hot springs (Onsen). Your appetite wiil be also satisfied with delicious local dishes, freshly caught fish. As the landscapes is different at every seasons, you can enjoy Izu many times.
1. Izu Highland (Izu Kogen)
Izu can be divided into four regions: east (Higashi Izu), south (Minami Izu), west (Nishi Izu), and middle (Naka Izu). Each region has its characteristics. Higashi Izu will be the place to visit if you want to enjoy both of nature and art.
Izu Kogen is located in Higashi Izu that extends from the foot of Mt. Omuro to the Jogasaki Coast. The landscape from top of the mountain is breathtaking, if the weather is good, you will be able to see the Amagi Mountains, Hidemine Fuji, the Southern Alps, the Izu Islands and so on. The foot of the mountain is a famous spot to enjoy cherry blossoms (Ohanami) in spring.
Other than Mt. Omuro, Izu Kogen has many scenic sites, such as Jougasaki coast and Lake Ippeki.
You can also enjoy art in the region, since there are many museums along the street: Ivory and Stone Sculpture Museum, Teddy Bear Museum, Music Box Museum and more.

There are many restaurants and cafes around where you can take a break when you feel tired with museum tour.
2. Shuzenji
Shuzenji is a more relaxed and calm place where you can enjoy hot spring (Onsen). Shuzenji Onsen is the oldest hot spring on the Izu Peninsula and it has been selected as one of Japan's top 100 hot springs.
The legend states that a famous monk struck a rock in a river with his vajra (buddhist sacred item) to find a miraculous spring during his training journey.
The very old hot spring in the region is known as "vajra hot spring (Dokko no yu)" . Nowadays external hot springs extended to nine.
The region has became famous for hot spring cure (Touji) since the Edo era and accommodation facilities were maintained in the surroundings.
Not just bamboos highlight Shuzenji features, Koyo (autumn-leaf) also surrounds the place, which makes it a perfect spot to enjoy Momijigari (autumn-leaf viewing). When you visit the region in the middle of Koyo season, the scenery will be amazing.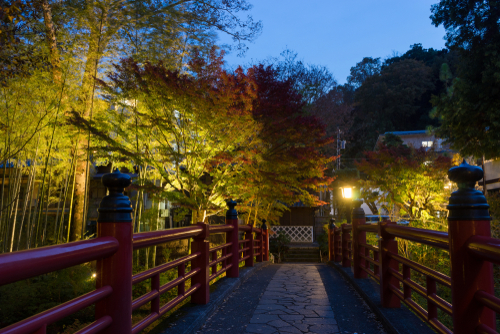 3. Atami
You can go to Atami by Shinkansen Kodama, about 45 min from Tokyo station. Atami became extremely popular in the middle of Showa era, but had fallen in disgrace lately. The town is having its great come back nowadays. In the Showa era, the place was popular amongst honeymooners and it was common to organize company trips there. Since this custom became less and less popular, the number of tourists decreased drastically in the Heisei era.
But the town was revived as a place that appeals to young people. In summer, the beach is busy and cars are lining on the streets which creates a free and lively atmosphere. It is a bit like the Hawaii or Cannes of Japan.

Also you cannot miss the Atami Marine Fireworks Festival, a historic firework festival which began in 1952. This Atami specialty is held more than 10 times throughout the year, not just in summer. Atami Bay, the venue, is a mortar-shaped terrain surrounded by mountains on three sides.The sound of fireworks raised in the sea reverberates, creating a large stadium-like sound effect. Fireworks in the night sky, reflected on the surface of the water is beyond the words.
Click here to discover our excursions around Tokyo!
Click here to discover our day trips with a private guide!
We are a Japan-based travel agency based in Tokyo, click here to contact our experts for more information about your next stay.