The magnificent Toshogu shrine!
2019年 04月02日

It is a shrine constructed in the honour of Tokugawa Ieyasu (1543-1616). Tokugawa Ieyasu is one of the three unifiers of Japan and the first shogun of the country: his dynasty governed Japan more than 250 years. He is the one who built the city of Tokyo (called Edo in the period) as a new Japanese capital city. He was buried firstly in the place close to the city of Shizuoka, but his remains were transfererred to Nikko 3 years after his death.
His grandson decided later to make a mausoleum which corresponding to the hight of the brilliant achievement of his grandfather.
statue of Shogun Tokugawa Ieyasu of Tosho-gu shrine



Unlike the other many temples and shrines which have rather sober appearance, the Toshogu shrine is decorated with plenty of sculptures (not less than 5100!), and the the deorations are in vibrand colours and gold.

The shrine is a huge complex composed by 55 elements and they are classified in the UNESCO World Heritage in 1999. The complex was built in a harmony with the topography of the location to give the peaceful atmosphere and solemn in a good balane wth the environnment.

The most famous element of this shrine is the Yomeimon gate, designated as a National Treasure. It is also called as Higurashi mon (the gate of the setting sun) because one could gaze upon it all day and never tire! It is ornamented with many sculptures and pillars and a pillar is reversed. The reason why it is reversed, because it is said that the perfect work will be destroyed one day, so that it had been built intentionally unfinished.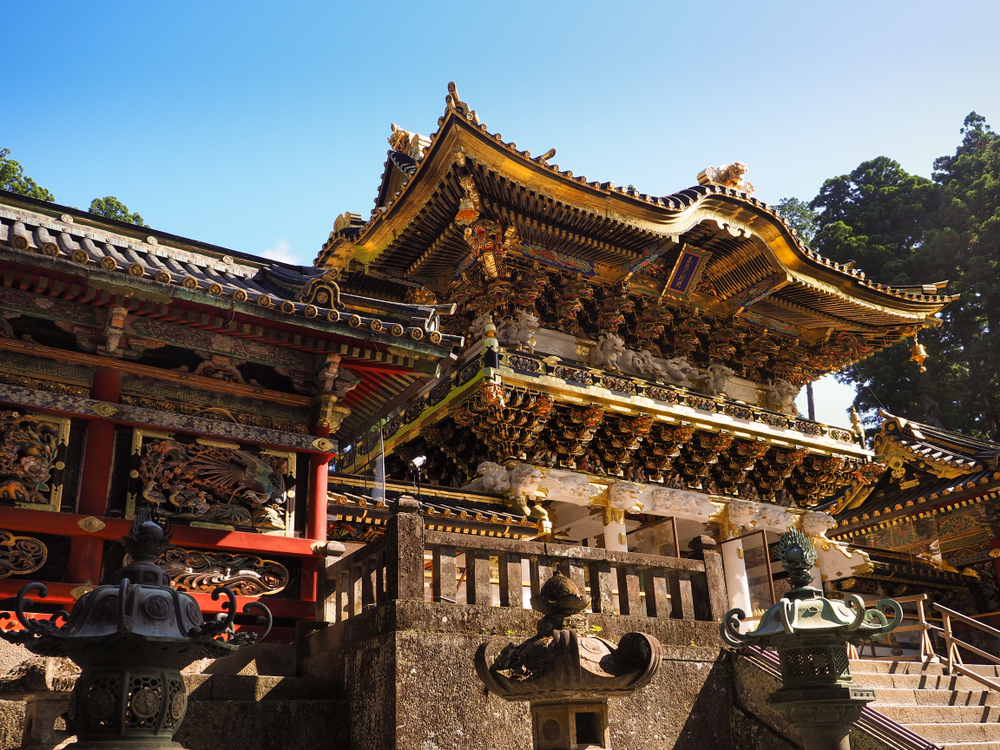 Two of those many wooden scultures are especially very famous and renowned by visitors. They are made by mythic artist Hidari Jingoro. There are some legends and it is said that the other claftsmen were so jalous of his talents and they cut his right hand. However, he continued his work by his left hand. (And "left " is "hidari" in Japanese.)

The one of those two sculptures "Three wise monkeys" that said: see no evil (mizaru), hear no evil (kikazaru) and speak no evil (iwazaru). Accordinly, the monkeys show that they hide the eyes, the ears, and the mouth.


The second famous sculpture the sleeping cat (nemuri-neko). The cat represents the peace and the tranquillity, but there is also another meaning: the cat can jump anytime if necessary.
The city of Nikko with the own history and natural landscape is very visited by Japanese tourists and also by foreigners. It is not so far from Tokyo and it will be a nice excursion for one day.

Click here to see our tours of Nikko and Tohoku
C
lick hhere to see other our suggestions of the excursions from Tokyo
Click here to see our excursions which can be customized