A different hanami experience: the Nemophila Flowerbed
2019年 03月14日
Japan has a long and rich history in terms of botany. For centuries, gorgeous gardens are made, plants are imported from abroad and gardening techniques are developed. As a result, it is clear that we can find so many floral parks in Japan, each more beautiful than the next. Let's enjoy the nemophilas in Ibaraki !
The nemophila is a little annual plant, also called "baby blue eyes", noted for its beautiful baby blue color, which is quite a rare tint in the nature. In flower language, these small corollas mean "I forgive you".
In the Hitachi Seaside park, Ibaraki prefecture (about one hundred kilometers to the north-east of Tokyo) are blooming some 4.5 millions nemophila, dying the 3 hectares of the Mirahashi Hills. The park is located right by the Pacific Ocean, therefore the sky, flowers and ocean are united providing us an astonishing entirely blue landscape.
The nemophila, as an annual plant, is sown every year in november, and the young seedlings are protected from winter in order to reveal their full potential the following spring.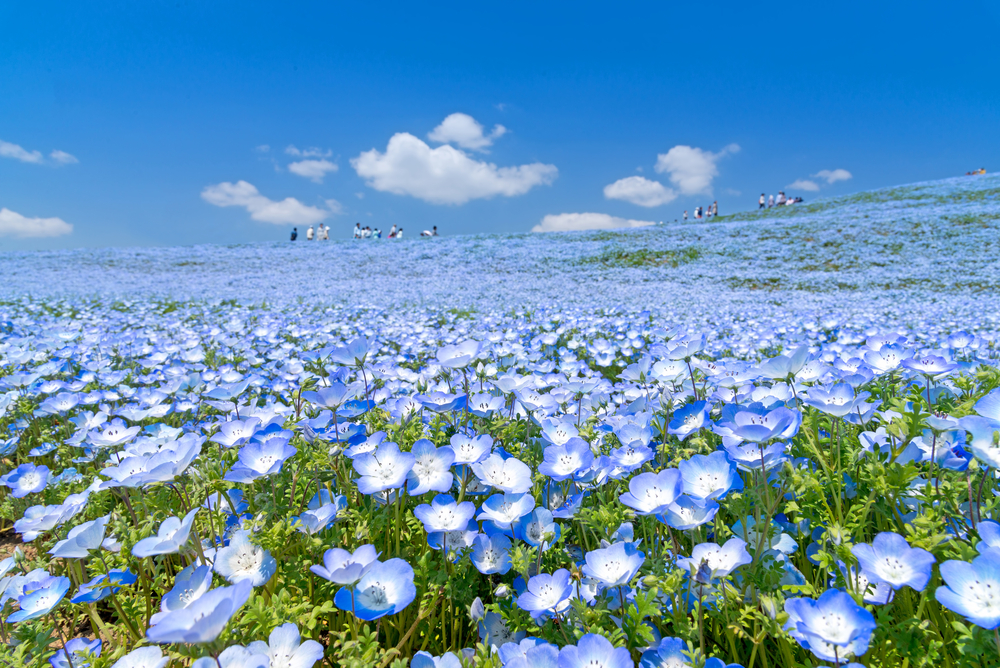 ---
Hitachi Seaside Parks flowerbeds differ according to location, it is therefore possible to admire a large variety of flowers throughout the year. We can for example appreciate tulips and daffodils in spring, roses and sunflowers in summer or cosmos and kochias in autumn.
This park is also famous for its beautiful pinks kochias flowerbed in October.
The kochia is a beautiful fluffy ornamental plant formerly used to make brooms. It's sown in early June, stay green until the end of summer and turns bright pink in October.
Click here to see our daytrip "Secret day trip to admire the cherry blossom around Tokyo - 3/29~4/12 2019"