A walk through Yanaka and Wagashi making into the heart of Tokyo
Ueno, Yanaka, Nezu, and Sendagi are popular places to visit.
In contrast to Tokyo station and Shinjuku station area where many buildings stand close together, temples and shrines stand with histrical buildings and trendy shops in Ueno and Yanesen (Yanaka, Nezu, and Sendagi) area although not far from Tokyo station.
In Yanesen area, you could feel warm atmosphere attributed to good old time of Tokyo.
Also you have an opportunity to make traditional Japanese confectioneries "Wagashi", which have been developed with traditional tea ceremony.
They have been refined with the passage of time, the beauty lies in Japnese confectioneries can be described as the art nowadays.
Your experience will be a souvenir for you what is not replaceable.
Why don't you make some for your family or friends when you back to home with the recipe.
Where to Go
Yanaka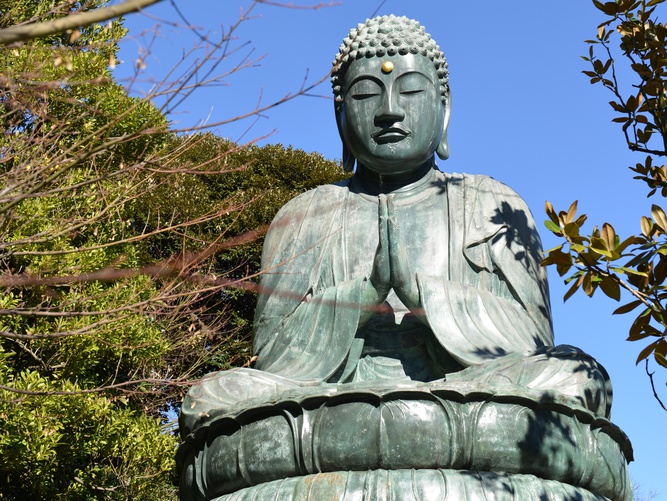 Tenno-ji Giant Buddha
Ueno Park
Ueno Toshogu
Japanese cakes
Itenerary
Shitamachi walking and making Japanese confectionery experience
Starting point:
Ueno station
*Meeting at the hotel is available with additional fee.
Departure time:
9:30
Duration (approx):
7.5hours
Highlights of the excursion:
- One day excursion with an English speaking tour leader
- Visit in small group
- Walk in the ancient style areas of the city
- Free time to visit the picturesque district of Yanaka Ginza and discover the famous Wagashis, little Japanese pastries tasting.
---
Description
This excursion starts from Ueno station
Ueno station has had its time, played a gateway role for Tohoku region as recieved many youngsters from poor villages of the Tohoku region in the postwar reconstruction period.
Anyhow Ueno station has sense of nostalgia may linked to the past.
Visit of Ueno Shitamachi museum
We will visit the Shitamachi Museum next. You will see people's everyday life in Edo period vividly through reproduction of Shitamachi town and life style and exhibition items such as household things and toys in addition to items used at seasonal and annual events.
Leave the Museum, we keep stroll Ueno.
Next destination is Ueno Toshogu Shrine.
Ueno Toshogu Shrine is the shrine where enshrines Ieyasu Tokugawa, the founder of the Edo Tokugawa Shogunate.
Many stone lantans dedicated from lords (Daimyos) nationwide and the shrine covered by gold leaves that tells us the glory of Edo period.
Shitamachi Museum, formerly Sake Yoshidaya Shrine
Then, we will head for Yanaka.
There is a former liquor shop called "Yoshida-ya" which has been engaged in liquor sales over generations since Edo period.
The shop building removed and reconstructed at the present place. Features of commercial structure from middle of Edo period to Meiji period can be seen in the building.
Also it exhibits tools and references relate to liquor sales during the period.
Visit of Jimyoin Temple
There is a temple for Jizo (Ksitigarbha or guardian deity) called for "Jyomyoin temple".
You will be astonished when you see as many as 48,000 of Jizo statues holding sponge cucembers stand the ground. So that people refers as "Sponge cucmber Jizo" and belives the power of devine healing effected in the asthma and the sickness relate to coughs.
Walk from Yanaka Cemetery to Tennoji Temple
Yanaka reien (Yanaka cemetery) is famous for cherry blossoms; for that reason, thousand of visiters visit the cemetery in the springs. Also it famous for graves of famous people: the last Shogun, Yoshinobu Tokugawa and the master of Japanese-style painting, Taikan Yokoyama.
We will watch Japenese graves carefully.
At the corner of the cemetery, there is an old Buddhist Tenno-ji temple build in the end of the 13th century (Kamakura period).
The Genroku Buddha statue was placed on the ground in the Edo period, and stands there ever since.
Jomyo-in
Yanaka cemetery
Lunch and stroll in Yanaka Ginza
As we pass through retro cafes, shops for rice crackers and Tsukudani (preservable food boiled down in soy sauce) from Nippori station, arriving at a step refered as "Yuyake Dandan". The veiw from the step is somehow nostalgia and reflect the friendly atmosphere of the traditional commercial and working-class neighborhoods.
Once we down the step, we are enter into "Yanaka Ginza". Please enjoy your free time like drop at the popular deli shops or stand bars, or even eat your lunch.
Shokichi Puppetry Studio
There is a little atelie at the back alley, is a puppet theater. The artist makes dolls and plays a burderless performance, which brings laugh for everyone.
Wagashis House
Finally time for making Japanese confectioneries "Wagashi".
Wagashi are traditional Japanese sweets made of An (sweet red beans paste) and Mochi (sticky rice cake) and so on. Wagashi are often said that reflect Japanese sensibilities, take care of changing seasons.
Let's try to make Wagashi pretending as if you are Wagashi master. You will be also taught how to whisk Matcha (Japanese green tea).
The tour ends at Sendagi station. Yet you are welcome to continue strolling Shitamachi or eating dinner.
---
★Return details : The tour ends at Sendagi station or Nippori station.( The tour leader will explain you the way back to your hotel)
※ Transfers to and from the hotel are possible in addition : ¥ 5,000 per couple and per alley.
Yanaka sunset
Important to know

Children must be accompanied by an adult.

Adult pricing applies to all travelers.

Minimum number of participants required for tour departure is one.

A moderate amount of walking is involved; please wear comfortable walking shoes.

Please inform us, at the time of booking, about the participation of any person with reduced mobility or suffering from any condition requiring special needs during the trip.

This tour is not covered by insurance.

Itinerary order is subject to change depending on traffic, weather and operation hours.

In case of traffic congestion or weather or any other uncontrollable reasons that affect the tour schedule and lead to delay in time, schedule change or visit cancellation etc., the tour will not be cancelled or refunded in such cases. Please be noted in advance.

Additional informations

Small groups, 6 people maximum. The tour can be customized in the case if there is no other participant on the day of trip.

Please note that public transportation will be used during this tour and seating is not guaranteed.

Please refer to "Travel information" about any useful information.

Pictures are used for illustrative purpose only.

Included

English speaking tour leader

All transportations during the tour

Admission fees to the Ueno Shitamachi Museum

Wagashi making workshop

Not included

The insurances

The personal expenses

Meals and drinks not mentioned

Transportations and activities not mentioned

Transfers to and from the hotel

*Meeting and/or sending service to the hotel by the tour leader are available with additional fees (each service:5000yen / 1group )
Dates&Price
Please select &click on the date below to make a reservation.
Travel tips
Related tours