Historic footpath into Japan nature. Nagano, Matsumoto, Kamikochi (Apr-Nov)
Tokyo and Kyoto were formerly linked by two main roads.
The first one was the Tokaido road along the river, the second one was the Nakasendo road, crossing the mountains.
At this time, it took travelers about 2 weeks to reach these destinations. Nowadays, we have cars and trains, and it takes only 2 and a half hour by shinkansen to make this distance.
Kyoto, the former capital of Japan count a large number of buddhist temples and shinto shrines, and there is so much to visit that you are surely looking forward to enjoy it.
Moreover, if you have a little time left, do not miss the opportunity to make a detour on your trip to Kyoto.
You could enjoy special and unique experiences off the beaten tracks in amazing places. It will remains on your memories forever.
Where to Go
Itenerary
Ideas of activities to enjoy before the day of departure.
Mt. Nokogiri
Mt. Nokogiri, located south of Boso peninsula in Chiba, was a stone quarry 40 years ago. The work in the quarry has been done for a long period which give the cliff the appearance of a saw-shaped, Nokogiri meaning Mount Saw in Japanese. It is not far from Hamakanaya station, and there is a wide range of hiking trails and a cable car that allow everyone to enjoy it deeply. From the place where the quarry was, you could enjoy both a breathtaking and a scaring view. It is called "Jigoku Nozoki" (the hell peeping in english).
There is plenty of places to visit. For example, you could admire the largest seated Daibutsu in Japan, and Hyakushakukannon, the god or goddess statue 100 feets high.

Ryogoku district
Ryogoku district is considered as the heart of sumo culture. Here we find a sumo stadium, called Ryogoku-Kokugikan, where sumo fights take place and many restaurants which offer a traditional sumo meal, the chankonabe. The Sumida Hokusai museum is open since 2016, Hokusai Katsushika, the master of Ukiyo-e, having been born and lived in Ryogoku. Moreover, it is near Tokyo Sky Tree. Ryogoku has become a place not to be missed to discover Tokyo popular districts culture.

Ghibli museum
Ghibli museum is dedicated to the Ghibli studio's works. It is the first animated movie museum and the most famous in Japan. Open with the assistance of Hayao Miyazaki, renowned director of the Ghibli movies, it is a colourful building with a truly special architecture. At the museum, visitors have the possibility to stroll freely, and get lost in the gardens and corridors of this enjoyable museum. It is highly advisable to book a ticket the 10th of the month preceding the visit.
Mt.Nokogiri
Chankonabe, traditional sumo meal
Ghibli museum
Day 1 :

Tokyo

Visit free in Tokyo

Overnight in Tokyo

Hotel in Tokyo (☆☆☆)
Day 2 :

Tokyo - Obuse - Shibu onsen

Today's schedule

[Tokyo] ⋙⋙🚅⋙⋙ [Nagano] >>>🚃>>> [Obuse] >>>🚃>>> [Yudanakaonsen] ===🚌=== [Shibu onsen]

Transport Signs used above
Local bus: ===🚌===/ Train : >>>🚃>>> / Bullet train(Shinkansen) : ⋙⋙🚅⋙⋙ / ferry: ~~~🚢~~~ / Cablecar: +++🚠+++ / Ropeway: ***🚟*** / Gondora lift: ***🚡*** / Taxi: ----🚕---- / à pied: ....🚶.... /Nuitée : 🛌💤
---

Let's take the shinkansen from Tokyo
The Kanazawa Hokuriku Shinkansen, introduced in 2015, is designed on the connection between the ancient traditional culture and the future, the "Wa future" project. Its appearance is a combination between two important designed structures, the ancient traditional japanese colour in harmony with the landscape along the railroad, and the high speed operation while having a comfortable and elegant motion.
The steadiness of the train is remarkable, and although the train crosses mountainous areas to a speed of 260 k.p.h, it reduces vibrations and makes the travel be as relaxed as possible.
The Kanazawa Hokuriku Shinkansen, introduced in 2015, is designed on the connection between the ancient traditional culture and the future, the "Wa future" project. Its appearance is a combination between two important designed structures, the ancient traditional japanese colour in harmony with the landscape along the railroad, and the high speed operation while having a comfortable and elegant motion.
The steadiness of the train is remarkable, and although the train crosses mountainous areas to a speed of 260 k.p.h, it reduces vibrations and makes the travel be as relaxed as possible.
---


Obuse
~ The town loved by Hokusai ~
Obuse is located north of the Nagano Prefecture and the smallest town of the region with a population of 11,000 inhabitants. However, more than 1.2 millions of visitors come to visit it each year.
There are many museums, ancient temples and shrines, little shops selling local pastries and the town is surrounded by a quiet and wonderful scenery. In this traditional town you feel a true wellbeing. Formerly, it was a farming village which was witnessing increasing rural exodus. In order to revitalize its streets, the Hokusai Katsushika (famous japanese painter known for the art of ukiyo-e) museum was established. Hokusai will therefore be remembered as the painter who lived in Obuse for several years since he had 83. At this age, it was the first time he came to Obuse to visit his old friend, Kozan Takai, a wealthy farmer settled in the town for a long time. Takai established a workshop in his house for Hokusai. Hokusai came back to Obuse in 1844 until 1848. He passed away in Edo, age 90.
Hokusai was very famous and renowned for its remarkable work but also for his very particular personality, and many people though he was crazy, and totally uncaring on money. However, Hokusai was completely serene when he lived in Obuse.
Hokusai is well-known for his beautiful engravings "Ukiyoe", and he was also a great painter. You could admire in Obuse, among his most beautiful works. The best known in this small town are "Ryu" (the dragon), "Houou" the phoenix and "Do-to" (the furious wave), and you would not miss it. You would visit the Gansho-in temple to see the ceiling that Hokusai painted. This painting is the "Happo-Nirami no Houou" (the phoenix staring in 8 directions). This remarkable painting is 191cm x 95.5 cm, the size of 12 tatamis mats. The works of Hokusai contribute to promote the town in addition to the efforts which have either been completed to develop Obuse as we know today.
Many architects play an important part in harmonizing modern life with ancient traditional buildings. Obuse spotlights its speciality, the chestnut cooked in several ways (pastries, ice creams, and a wide range of other delicious recipes). In addition, the infrastructures and tourism are widely developed in comparison to other small touristic towns of the same kind.
---
Shibu onsen (Shibu Hot springs)
Located north of Nagano Prefecture, Shibu Onsen is part of Yudanaka hot springs complex, situated on the other side of the mountain where stands Kusatsu Onsen. Established 1300 years ago, it was already at that time, very popular and visited by many pilgrims who headed for Zenko-ji temple. Shibu Onsen has been visited by many great men during the Edo period as the famous painter, Hokusai Katsushika.
Nowadays, this kind of isolated places mostly falls into disuse, but Yudanaka remains popular. There is a wide range of accommodations type like hotels, or ryokan (traditional Japanese hostel), and Shibu onsen always reflects the ancient and the typical atmosphere of old japan, with its paved roads and wooden buildings standing into a perfect harmony.
Shibu Onsen has rich spring water resources. Indeed, it broads 37 water sources for 35 hotels and ryokans. It is one of the most important and rich hot springs in entire Japan. Indeed, it says that if you dig a hole somewhere in Shibu onsen, water should emerge instantly. You could enjoy a rest in one of the high quality onsen called "kake Nagashi" where the water emerges directly from the spring. As the other hot springs in Japan, you could enjoy onsen situated inside or outside of the hotels. It stands 9 different public baths that you could try. It is called in japanese "9(Kyu) tou meguri." All the 9 onsens are free, and with no employees so the onsen are equipped with automatic locking doors. If you stay in an accommodation in Shibu Onsen, you could borrow the key at the hotel front desk. You and only the Shibu onsen inhabitants possess the key.
In conclusion, the 9 baths are a privilege that you would not miss ! (the onsen number 9 is the biggest and also open to public for 500 yens).
You could find also many other onsen located few miles around Shibu onsen. In Yudanaka, you could buy a special ticket called "Yumeguri Tegata" (a pass that allow you to enjoy 3 different onsen)
---
Kanaguya
~ Ryokan listed in the Japan cultural heritage ~
This Ryokan (traditional Japanese accommodation) inspired one of the famous scenes of the Hayao Miyazaki's animated movie "Spirited Away". This 4 floors Ryokan built in wood is on the list of the national cultural heritage. It has more than 260 years of history. At this time, the owner travelled with his carpenters in entire Japan. They learned a lot about building methods and got some good experience. When they went back to Shibu, they were able to build this beautiful ryokan. Now you could admire in the entire building, numerous remains and drawings connect to this story. Do not miss the free guided visit at 5:30 pm to discover all the secrets of Kanaguya.
The ryokan count 8 baths - 3 large and 5 smaller (private bath)

*Room upgrade : you have a possibility to upgrade your room with additional fee ・・・+10,000yen
Japanese style standard room → "Kanaguya" craftman style superior room
Kanaguya (Shibu-onsen)
breakfast, dinner, lunch
Day 3 :

Shibu-onsen ~ Jigokudani wild snow monkey park (optional) ~ Zenkoji

Jigokudani wild snow monkey park

(Guided visit is optional, prepaid supplements are required)

Into the heart of Yudanaka onsen is the wild snow monkey park. It is the only park where you could observe wild monkeys taking their bath. Consequently, it attracts many visitors, notably from abroad. This picture of these animals taking their bath quietly is well known in the entire world and many tourists aim to visit it. In Asia, many countries with high concentration of wild monkeys are facing different issues regarding the aggressive behaviour that monkeys have against tourists. In this park, it is strictly forbidden to feed animals and there is a lot of other rules set in order to prevent that kind of issues. Therefore, monkeys are not concerned with visitors and live peacefully in their natural habitat. The park warden carries for wild monkeys who use to come into the park where they are admired by visitors. (they are wild animals who used to live in the mountain and although a lot of them come in the park, it could be possible not to have the chance of seeing them). Many of them love to come in the park during winter but it could be unusual to see them relaxing in hot springs during summer, except maybe during the coolest early mornings. This park is quite isolated and it takes about 30 minutes walk from the car park. In winter, the path could be covered with snow and it is advisable to take the right footwear to avoid slipping and to wear warm clothes.

A guided visit in the park is optional. If you would rather not to participate, please enjoy free time in Shibu Onsen until departure time.
---
Pilgrimage to Zenkoji temple

This temple is located north of Nagano Prefecture, and was founded at the 7th century. It was already established before the separation of buddhism in Japan. This temple accepts everyone without any distinction, including women, unlike least recent temples. Consequently, this temple has always been visited for centuries.
During the Edo period, local roads have been constructed and traveling has become easier than before. People began to travel into the heart of mountains in Nagano. At the end of the Edo period, Zenko-ji was a highly visited temple which allowed the city of Nagano to grow and become nowadays, the prefectural city. Into the main part of Zenkoji temple stands the statue of Amida-sanzon-zo. This is the oldest statue of Japan, and a true national treasure. Once every 7 years, during the "Gokaicho" time, a replica is shown to public because the original statue is kept preciously and even the priests of Zenko-ji are not allowed to contemplate it.
Tourism in Zenko-ji is also popular due to "Okaidan-meguri" road, where visitors walk under the Ruri-dan with heads bent down, into total darkness. While they are moving along the wall, visitors are heading for the "Gokuraku no Jo-mae" (The paradise keyhole) which is under the Buddha statue. It says that if you touch it, you could place yourself in relation with Buddha to Paradise. This experience has a true connection with buddhism.
Usually, people are skeptical about how this experience could have any interest, but thanks to it, we learn all the secrets of meditation and concentration. After touching the keyhole, we move into darkness, completely lost, but helped by concentration and the desire to reach the light as we wish to reach the awakening. And when we finally make it, we are dazzled by the light, relieved, and delighted by the wonders of the world around us. We realize how lucky we are to live in this world and grateful to our daylife. That is why these little road is synonymous of "Dojo", a space for immersive learning and meditation.
---
Shukubo
~ Overnight in a temple ~
When you are visiting Zenko-ji temple, we highly recommend you to spend the night in a temple called in Japanese, "Shukubo".
Formerly, a Shukubo was part of a temple that welcomed pilgrims came from far away, and these people aimed for a modest meal and for spending the night in the same place where monks lived. They purified their souls and their body. Nowadays, in the same way, Shukubo welcome tourists who enjoy to spend the night in a comfortable place, the facilities and the service being improved. It is quite different from the ascetic life pilgrims used to experience before but it keeps the willingness to share the buddhist culture to visitors who stay here.

There is also the opportunity to experience the Sha-Kyo (a soutra transcription) and the Sha-Butsiu. But above all, O-asa-ji is highly recommended. It means the reading of the soutra aloud by the monks in the main part of the temple. It starts between 5 am and 6:30 am. Visitors are down on their knees while receiving the benediction from the main monks, a man and a woman (no discrimination in this temple). While the monks are heading for the main part of the temple, they are praying aloud and visitors are listening to them.
Shukubo in Zenko-ji area
breakfast, dinner
Day 4 :

Zenko-ji ~ Kamikochi

Kamikochi


From Matsumoto, located in Nagano Prefecture, you could go to Kamikochi in about 1h40 by train and by bus. The valley is located into the Hida mountain range (northern japanese alps) 1500 meters high. Among the mountainous sightseeing in Japan, Kamikochi is one of the most popular with Mount Fuji. Many tourists from Tokyo, Osaka or Nagoya come to Kamikochi during summer holidays, or in autumn during autumn leaves to admire the outstanding landscapes. During high season, it takes about 4 or 5 hours to access Kamikochi, and many people arrive at noon, peak time of the day. However, if you come directly from Matsumoto, you could arrive earlier, and avoid the crowd. Kamikochi is full of moderate level paths to hike, so it attracts many visitors. Azusagawa river rises at mount Yarigatake, emblematic mountain of the northern japanese alps, and lets you enjoy a beautiful hike on its shore.

Usually, you could start the hike from Taisho-ike (Taisho pond; which appeared after a volcanic eruption), and enjoy a walk on a flat pathway and its stunning scenery along the river.
The Kappabashi bridge crosses Azuka-gawa river facing Mount Myojin-dake, and behind you stands Mount Yake-dake. Here you could find hotels, souvenirs shops, restaurants, and also the bus terminal. It is the departure point for excursions in Kamikochi. Usually you could walk from Taisho-ike to Kappabashi bridge, but you could also continue the stroll to a beautiful and mysterious place, the Myojin pond located farther away. Myojin pond appeared after a landslide which created a natural dam on Azusagawa river. This pond is today the Hodaka jinja Okumiya sanctuary (Hodaka Okumiya shrine), guardian of the northern japanese alps, devoted to mount Oku Hodaka, one of the highest mountains of Japan and the highest among northern japanese alps mountains. Myojin pond has its source at mount Myojin and its water is so pure that it has become a true sacred place of Kamikochi.
Hotel or cabin in Kamikochi
breakfast, dinner
Day 5 :

Kamikochi ~ Daio wasabi farm ~ Matsumoto

Enjoy your free time in Kamikochi until departure time.
---
Daio wasabi farm
Until recently, many visitors love to come to this farm located in the town of Azuminoi, north Nagano. 10% of the entire production of japanese wasabi is grown here, and the farm has one star at the Michelin guide. This large farm covers 1 kilometers from the south to the north and an area of 15 hectares. Wasabi is a delicate plant that easily contracts diseases, and it requires a lot of water. In this farm, water comes from northern alps snow melting and it is very qualitative, maintaining steady temperature allowing wasabi to grow optimally while preserving a pleasant flavour. The water of this region is registered among the 100 best waters of entire Japan. The farm has been built in a smart way in order to enjoy the view and there are many little paths to stroll equally to a park where we could admire small streams flowing between.
The farm is well-known thanks to the Akira Kurosawa movie named "Yume" (dream in japanese). The movie was made with assistance from Steven Spielberg and Georges Lucas and also starring Martin Scorsese. The final scene shows a village full of watermills, a picturesque landscape that Kurosawa filmed in this farm. He had no doubt regarding this place to make his movie so you wouldn't miss the recommendation from a great movie director to visit this magical farm.
---
Enjoy night city view in Matsumoto
Hotel in Matsumoto (☆☆☆)
breakfast
Day 6 :

Matsumoto city sightseeing ~ Narai-juku

Matsumoto

~ historic town with a black castle ~


During Edo period, Matsumoto was the most affluent town of Nagano Prefecture. Located in an isolated place into the mountains, it was spared from the war and maintains its cultural and historic heritage and above all, its majestic and well preserved castle.



《Matsumoto-jo》 (Matsumoto castle)

In Japan, there are 12 castles which maintain their original appearances whose 5 are registered as national treasures. Among these are Himeji, Hinoke, Inuyama, Matsue and Matsumoto castles.

The dungeon and the moats surrounding the castle are beautiful and could be compared to those of Himeji Castle. Unlike Himeji castle and many castles in Japan, Matsumoto castle is painted in black that is why it is called "Karasu jo" (The crow castle). A red bridge beautifies the 6 floors high dungeon, surrounded by the moats. If you visit the interior of the castle, you will see the impressive defensive structure and ancient arsenal.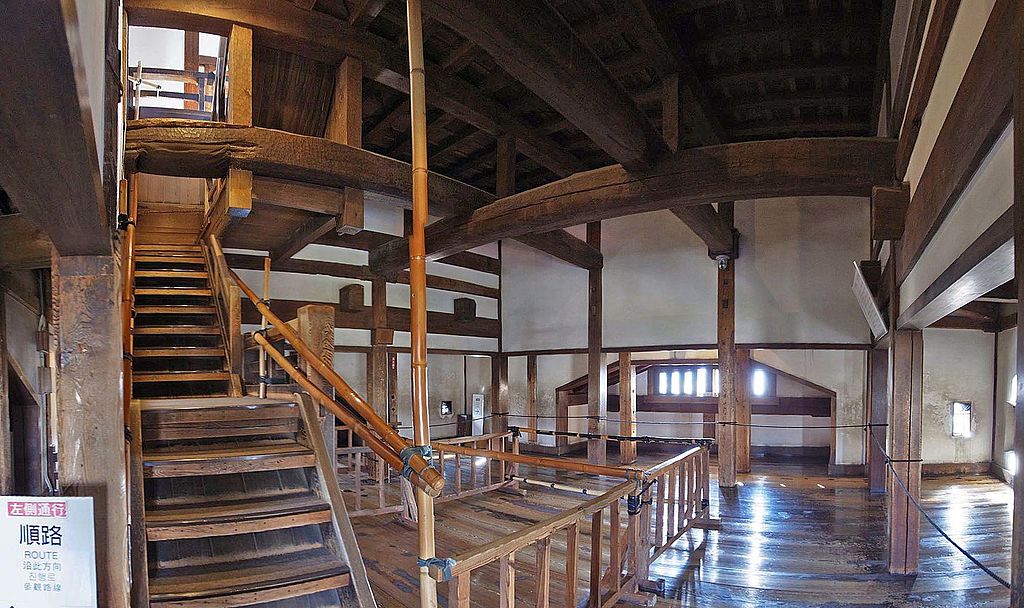 《Nakamachi dori》(Nakamachi street)
Nakamachi street is well known for its black and white wall called "Namako-kabe" and keeps the ancient Edo atmosphere. Formerly, sake brewers and kimono weavers created this walls and warehouses to avoid fires. Nowadays, the warehouses became folk art items shops, and coffee shops preserving the ancient ambiance.


《Nawate-dori》(Nawate street)
Like Nakamachi street (Nakamachi-dori), the ancient Edo appearance of Nawate attracts many visitors. You will find many items in relation to the frog, the emblem of Matsumoto for more than 40 years. There are also many antique shops, bakeries and restaurants. Also stands Yohashira Shrine, known as a true spiritual sanctuary where it is possible to make wishes.


《Matsumoto-shi Biyutsukan》( Matsumoto art museum)
Matsumoto is the birthplace of the artist Yayoi Kusama, known for his "Naoshima pumpkins" and many others works of art kept in Matsumoto museum. In front of the museum stands the big "Maboroshi no Hana" work of art. You will certainly notice that many of Kusama works are exposed but you will also have the opportunity to admire the work of many other artists who was born in Matsumoto.
---
Narai-juku (Juku=ancient road station)
During the Edo period, roads began to be built and 2 roads linked Nihonbashi bridge (Edo/Tokyo) and Sanjo-Ohashi bridge (Kyoto). One of those roads is Tokaido, that stands near the Pacific ocean and the other is Nakasendo, that crosses Nagano mountains. Next to the roads was developed stations as train stations that we know today, and was called "Shukuba". Narai-Juku is one of the 69 "Shukuba" of Nakasendo road. It covers 1 kilometers from the north to the south and is the longest of the entire Japan. This station was named "Narai 1000 gen" (Gen means the unit that counted the numbers of buildings) its development was so important that it seemed made with thousands of mansions.
From Tokyo, travelers who headed for Kyoto had to cross the Torii mountain. Narai Juku facing the mountain ascent, many travelers came to it in order to rest and get ready to cross it.
Nowadays, the town preserves its ancient Edo and Meiji period appearance and it is registered on the list of national heritage of traditional buildings.
Note :
-During this journey, we offer you to spend the night at Narai-Juku or Tsumago-Juku and the accommodation would be a minshuku, the ancient style accommodation of Japanese Shukuba, and it is possible not to have a bathroom in your room. It is also possible that it has fusuma (vertical rectangular panels which can slide from side to side to redefine spaces within a room, or act as doors). However, you would find yourself as you were back in time, during the Edo period.
- During your stay at Narai or Tsumago, the group could be separated (including your tour guide) and spent the night in a different accommodation according to the availibity and the reception capacity of each one.
Minshuku or Ryokan in Narai-juku or Tsumago-juku
breakfast
Day 7

《Magome-juku~Tsumago-juku》Hiking ~ Kyoto

Magome-juku

Magome-juku is one of the 69 shukuba of Nakasendo road. It is situated on Kiso-ji road (the road between northern and southern alps) which is difficult to cross but surrounded by a stunning scenery. During the Edo period, the town was developed but in the second half of the XIXth century, the road located far away from the actual national road has lapsed and a fire destroyed the surrounding nature few decades after. But in the XXth century, the city rises again thanks to Toson Shimazaki, a famous writer founder of the naturalist literary movement (Shizen Shugi) who was born in this town which attracts many tourists.

Destroyed by the fire, the original buildings have not survived but the inhabitants of Magome have with great effort, contributed to the restoration of the atmosphere and landscape of the shukuba of yesteryear. It now seems to be the Shukuba of ancient times. The appearance of Magome-Shuku is in a perfect harmony with the nature around it. Magome-Juku was a place of welcome for travelers now become a place of reception of tourists. There are souvenir shops, restaurants and cafés here today. We can now say that Magome has rebuilt its former vivacity.
From Magome-juku, we will head for Tsumago via a trail in the mountains to Tsumago-juku.
---


Hiking on the ancient road of Nakasendo (Magome-Tsumago)
There are about 9 kilometers of hiking from the 43rd Shukuba, Magome Juku and the 42nd, Tsumago Juku. Once you will have hike the slope from Magome Juku, you will arrive at Magome Touge, the highest point of this road. You will observe a charming mansion a little further away from Magome Touge, dating back to the second third of the Edo period that is nowadays a resting place where you could drink a tea quietly and catch your breath. On the way, you will see a beautiful waterfall and a breathtaking view. Indeed, the hike is surrounded by wonderful nature. Moreover, the paved paths into the lush vegetation make the ambiance mysterious and fascinating. It takes 3 hours to go to Tsumago-juku if you walk slowly and it has only 200 meters difference in height so the hike is suitable for everyone. In addition, the starting point and arrival are beautiful villages full of charm. Consequently, it attracts many foreign visitors and you could met many hikers from everywhere in the world.
---
Tsumago-juku
Tsumago is part of a natural protected environment for many years, and registered first on the list of national heritage sites with Shirakawago and Gion, the famous old street in Kyoto.
Unlike Magome Juku, which had been destroyed by fire at the beginning of the XXth century, Tsumago always kept the beautiful and charming appearance of a Edo period town.
There is a will to help revitalize Magome streets and do something positive in order to welcome more visitors. Regarding Tsumago, it maintains the quiet and the peaceful atmosphere like it was in the old days. Here, it stands old mansions which are true cultural treasures since Edo period. There are also Kisoji Museum, and the Honjin (Former accommodation for the nobles, and the upper classes). You could stroll in the streets and imagine yourself back in time, coming across aristocrats who lived here a long time ago.
---
Let's go to Kyoto via Nagoya (you have the possibility to leave the group and get off at Nagoya).
☆☆☆hotel in Kyoto
breakfast
Day 8 

Kyoto

Visit free in Kyoto

breakfast
Ideas of activities to enjoy after the tour
As mount Koya, Mount Hiei is one of the most sacred places in Japan, registered in the UNESCO world heritage, it is the birthplace of Tendai buddhism where stands, since the VIIIth century, Enryaku-ji temple at its top. The temple has been almost completely destroyed by the daimyo Oda Nobunaga and his army in the 16th century but it has been rebuilt during the Edo period. It says that there were 3 000 temples here before the 16th century. The most ancient part of the temple is the Todo part situated on the east. You could access the site by a beautiful hike in the forest among majestic sceneries of red and yellow tree leaves in autumn, or wonderful flora colors in spring.
Mount Daimonji is accessible by a trail that starts not far from the famous Ginkaku-ji temple in Kyoto. It is a very pleasant 1 hour hike to the top from which you will have an amazing view of the city. The name of the mount alludes to august 16th 's night where you can admire a huge japanese character (大 which reads dai and means greatness in Japanese) made with wide fires on the mountain. Other mountains are doing the same thing on their slopes during that night. The ritual is done in order to help lost souls to reach heaven.
★The Torokko tourist train of Sagano and the Hozu river boat ride
Perhaps you know Arashiyama, a Kyoto natural area, famous well known for its bamboo grove and its monkey park, not to mention the large number of temples and shrines that stand here ? You should know that in Sagano, it is possible to take a small picturesque train and cross the mountainous area and the stunning scenery near Kyoto. Torokko train alias "romantic train" wears its name well, traveling along the Hozugawa river in a beautiful valley. Moreover, it is possible and recommended to take a boat down to the river. From Kameoka station, the Torokko train terminal, you could board a small wooden boat to sail over 16 kilometers to Arashiyama, crossing the rapids and stunning sceneries, a very fun and playable activity to enjoy !
Enryaku-ji
Mt. Daimonji
Torokko tourist train of Sagano and the Hozu river boat ride
Important to know

Children must be accompanied by an adult

Please inform us, at the time of booking, about the participation of any person with reduced mobility or suffering from any condition requiring special needs during the trip.

Please advise any specific dietary requirements at time of booking.

We need a minimum of 8 people for this tour to start. In the case of individual bookings, it will be confirmed once the participant number sufficient.

The tour operator reserves the right to cancel the excursion 30 days before departure date if the number of participants is not sufficient.

In case of traffic congestion or any other uncontrollable reasons that affect the tour schedule and lead to delay in time, schedule change or visit cancellation etc., our company will not take any responsibility, please be noted in advance.

Itinerary order is subject to change depending on traffic, weather and operation hours.

The price is per person based on the booking of a double or a twin room.

All the bookings must be confirmed not later than 30 days before departure.

Additional informations

You have the possibility to stay in a wide range of accommodation types in order to immerse yourself in our culture. Please refer to "Accommodation"

Please note that we will take public transport during the trip. Please refer to "Transportation"

Travel to Japan means also the discovery of a fascinating and a varied cuisine. That is why, sometimes during the trip, you will have freetimes at noon or in the evening to enjoy a wide range of restaurants. You will be surprised by the large number of restaurants in Japan, and their attractive prices. Please refer to "Meal".

Your main luggage will be transferred from hotel to hotel every two or three days and it is highly recommended to carry a backpack or a handbag with you personal belongings. Please refer to "Transfer of your luggage".

This itinerary includes hiking paths; please wear comfortable walking shoes.

Each itinerary includes some free times. You will enjoy a wide range of sightseeing on your own. Please notice that there will be no transportation during free times. All the payments made during free times are at your own expense.

Please refer to "Travel information" about any useful information.

Please expect an additional price if you are traveling alone. Most of the Ryokan doesn't have single rooms.

Pictures are used for illustrative purpose only.


---


The average temperatures(Celsius)

| | | | | | | | | | | | | |
| --- | --- | --- | --- | --- | --- | --- | --- | --- | --- | --- | --- | --- |
| | Jan. | Feb. | Mar. | Apr. | May. | June. | july. | Aug. | Sept. | Oct. | Nov. | Dec. |
| Nagano | -0.5 | 0.2 | 3.7 | 10.8 | 17.4 | 18.8 | 25.1 | 24.9 | 19.8 | 14.3 | 6.8 | 1.0 |
| Kamikochi | -0.6 | 0.8 | 4.8 | 10.4 | 16.3 | 20.4 | 24.4 | 25.1 | 20.6 | 14.0 | 7.8 | 2.6 |
| Magome | -1.5 | -1.0 | 3.5 | 9.4 | 14.1 | 18.0 | 21.5 | 22.6 | 18.8 | 12.5 | 8.5 | 1.1 |

Included

tour leader's service every day

The breakfasts and the meals mentioned in the itinerary
:7 breakfasts, 1 lunch, 4 dinners

Every transport mentioned in the itinerary

Accommodation for 7 nights
:1 night at Tokyo, 1 night at Shibu-onsen(☆☆☆☆☆), 1 night at Zenko-ji(Shukubo), 1 night at Kamikochi, 1 night at Matsumoto, 1 night at Narai-juku ou Tsumago-juku, 1 night at Kyoto

*Remark: Shukubo style at Zenko-ji couldn't be classified with stars. Regarding the accomodation at Shukuba , it will be Minshuku style.
*Room upgrade in Shibu-onsen : you have a possibility to upgrade your room with additional fee ・・・+10,000yen/per person
Japanese style standard room → "Kanaguya" craftman style superior room

The visits and the entrance fees in the sites mentioned in the itinerary

The transfer of your luggage from hotel to hotel every two or three days

Luggage transfer fees from hotel to hotel.

*Tour price for children is available. The tour price for the groupe who share the rooms by more than 3 peaple can be also negotiable.Please ask us about further information on the reservation form.

Not included

The international flights

The insurances

The personal expenses

The meals not mentioned in the itinerary

The transports, the entrance fees and the activities not mentioned in the itinerary.

The Tips (optional).

*Please ask us for the extra nights before or/and after the tour.
Dates&Price
Please select &click on the date below to make a reservation.
Travel tips
Related tours