Japan's horse races, Tokyo or Ohi or Nakayama racetracks
What about a unique entertaining place in Japan? The racecourse nowadays becomes a popular spot to visit for all generations.
The tour leader will show you the facilities in racecourse and how to bet on horses.
Horse racing is nowaday an amusement place where everyone can have fun.
Guests can also visit the nearby paddock and admire the impressive racehorses.
This visit is half day tour that you can take advantage of another half day visit some places in the neighborhoods or carry on the horse race.
Where to Go
Itenerary
ツアー詳細
★ Starting point : Shinjuku or Tokyo (other negotiable place)
★ Departure time : 9: 00 (Tokyo racecourse or Nakayama racecourse), 13:30 (Ohi racecourse)
★ Duration(Aprox.): 4 hours
★ Highlights of the excursion :
- Day trip with english speaking tour leader
- Small group excursion
- Visit of a real entertainment spot
- The tour leader will take you to the betting area and horse races backstages.
---

What is your image of the horse racing environment in Japan?
In the past, there was a lot of middle aged men who bet on horses, in a smoky atmosphere, and a strong smell of tobacco.
This stereotype has now disappeared, the racetrack has become a real family theme park where anyone can visit.
There are horse racings called "central horseracing" sponsored by Japan Racing Association and local horse racings called "local horseracing" sponsored by local governments.
The first association organizes the races of the Tokyo racecourse and Nakayama racecourses, the local races being those of Ohi, in Tokyo area.
The central horse racings take place on weekends and each racecourse tries to make more entertainment elments in order to attract families & visitors.
Tribune Tokyo
Tribune Nakayama
On the other hand, the local horseracings take place weekdays.
In case of the Ohi horse racing, sometimes we can watch evening horse races called" twincle races". Since it starts in the evenings, office workers can watch after their work. And therefore, the Ohi horse racing places many food shops and installed illuminations to entertain those people while they watch horseracings.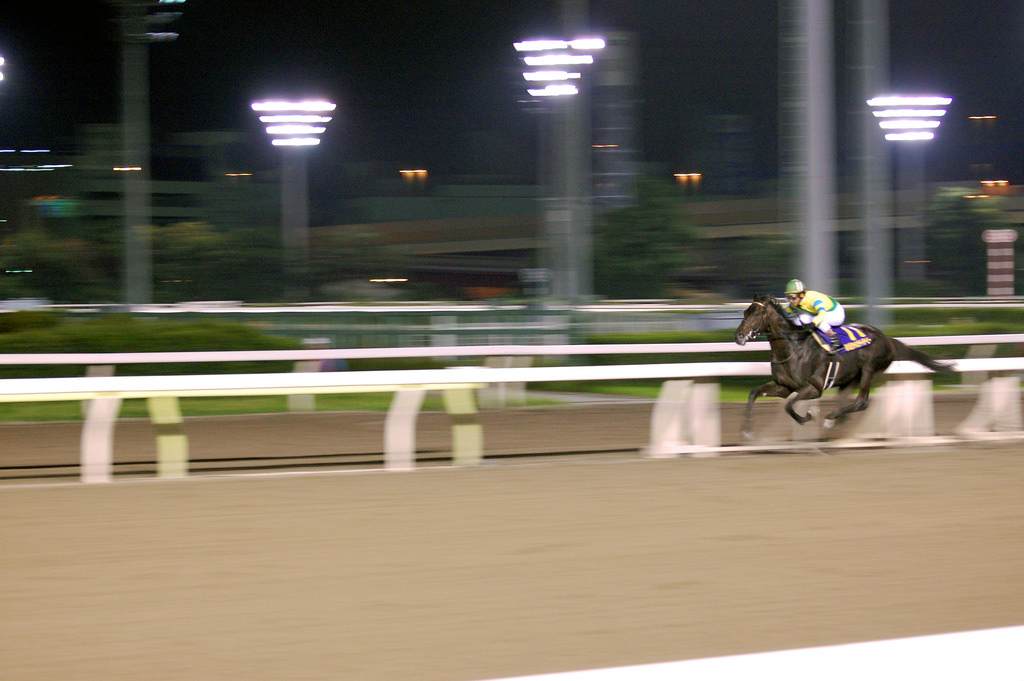 Regarding the betting, you could start from 100 yen on a horse just for fun without risking betting all your fortune into play!
No need to worry about the rules, the tour leader will explain how to bet and get the refund.
In addition, visiting the paddock, you could see horses and jockeys just before the race.
There you would have the opportunity to admire true champions.
Actually, the best jockeys of "Central Horse Racing" are the French Christophe Lemaire and the Italian Mirco Demuro.
This experience would be a fun for a beginner and would be a good opportunity to compare with your country for the one who once bet.
paddock
guichet
récépissé des paris
This is a half-day trip, so do not hesitate of visiting other sightseeing in the area.
Not far from the Tokyo racecourse, you can visit the Okunitama Shrine and on the way to go back to Tokyo, you have several touristic places like the Edo-Tokyo architectual open-air musium where you could see many ancient restored mansions dating from Edo era, or you can visit popular places such as Inokashira Park, Kichijoji or Koenji.
le sanctuaire Okunitama
Edo-tokyo open-air architectural museum
le parc Inokashira
If you go to the Nakayama racecourse, not far from Tokyo Disneyland, you could enter it with discount ticket after 3pm or around 6pm.
You could also go to the Kasai Rinkai Park via the traditional district of "Monzen Nakamachi", or via "Ryogoku" known as sacred place of Sumo wrestlers where the Sumida Hokusai Museum and the Japanese sword museum stand.
Regarding the races of Ohi, as they take place in the afternoon, you would have time enough to enjoy the sightseeing in Tokyo in the morning.
---
Return detail: The tour ends at the racecourse visited, The tour leader will explain you the way back to your hotel.
* Do not hesitate to contact us if you wish to add a escorted tours for the places indicated above.
Important to know

Children must be accompanied by an adult.

Adult pricing applies to all travelers.

Minimum number of participants required for tour departure is one.

Please inform us, at the time of booking, about the participation of any person with reduced mobility or suffering from any condition requiring special needs during the trip.

This tour is not covered by insurance.

In case of traffic congestion or weather or any other uncontrollable reasons that affect the tour schedule and lead to delay in time, schedule change or visit cancellation etc., the tour will not be cancelled or refunded in such cases. Please be noted in advance.

Additional informations

Small groups, 8 people maximum. The tour can be customized in the case if there is no other participant on the day of trip.

Please note that public transportation will be used during this tour and seating is not guaranteed.

Please refer to "Travel information" about any useful information.

Pictures are used for illustrative purpose only.

Included

English speaking tour leader

all public transports during the visit

entrance fee for the racecourse

Not included

The insurances

The personal expenses

Meals and drinks not mentioned

Transportations,visits and activities not mentioned

Transfers to and from the hotel
*Meeting and/or sending service to the hotel by the tour leader are available with additional fees (each service:5000yen / 1group )

gratuities(Voluntary)
Dates&Price
Please select &click on the date below to make a reservation.
Travel tips
Related tours