Visit of "Mount Saw", place of the largest seated Buddha of Japan
Leaving the tumult of downtown Tokyo, let's head to the big Boso Peninsula of Chiba prefecture by bus crossing Tokyo Bay.
The Nokogiri yama, a sacred mountain with magical landscapes that can be visited in 1 day.
This mountain hides among the most beautiful treasures of Japan like the largest seated Buddha of Japan and more than 1500 varied statues of Buddha. Taste fresh seafood at the port and cruising by ferry on the way back to Tokyo Bay.
Where to Go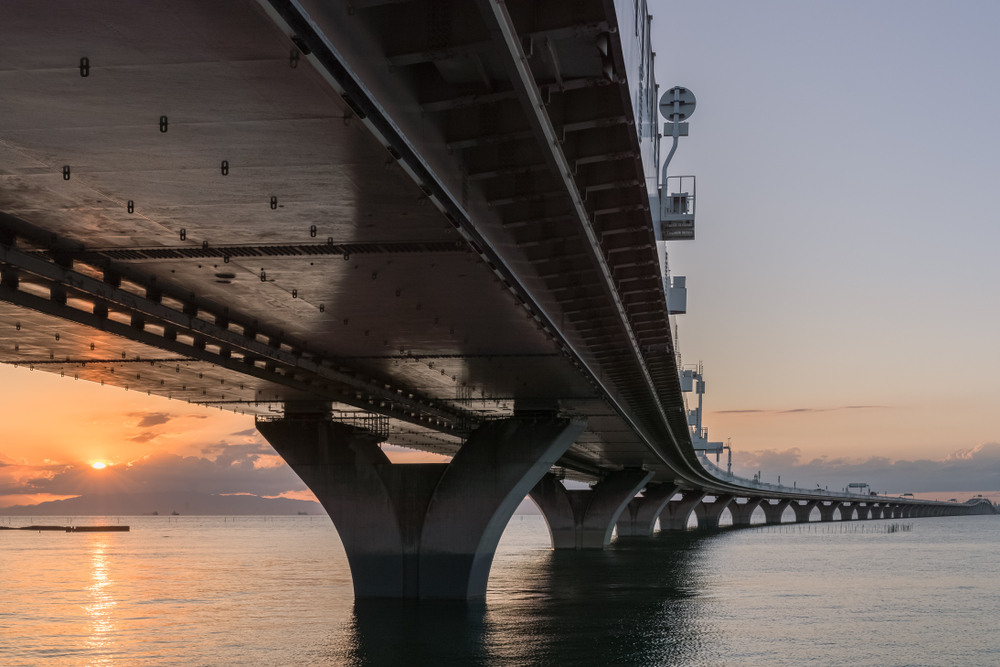 Tokyo Bay Aqua-Line
Bouddha carved on the rock
Daibutsu (Grand Bouddha)
Jigoku-Nozoki
in the close of Nihonji temple
Itenerary
Détail de l'excursion
Starting point: Tokyo Station
Departure time: 8:30
Duration (approx.): 9h
Highlights of the excursion:
-Full day excursion with an English speaking tour leader
-Visit in a small group
-Excursion via the Aqua-Line and return to Tokyo by Ferry
-Free lunch at the port of Kanaya
-Ascension of Mount Nokogiri by ropeway; Visit Nihonji Temple, the largest seated Buddha in Japan, Jigoku-Nozoki ( "a glance into the hell"), 1500 Buddha statues,
---
Description

Departure from Tokyo by bus passing through the aqua line that crosses Tokyo Bay.
The aqua line is a toll highway consists of two thirds of 15 km is a submarine tunnel and rest is a bridge overlooking the bay. This road connects the Kawasaki city in Kanagawa and the Kisarazu city in Chiba.
Aqua Line
Enjoy delicious seafood that would be sold in Tokyo's famous Tsukiji Market at Kanaya Fishing Port.

Once satisfied, we will head to the mountain.
The word "Nokogiri" means "Saw" because of its sawtooths ridge line.
It was even drawn by the famous painter of the Edo period, Utagawa Hiroshige.
The ropeway will take us at the level of 262m, where we will find the entrance of the Nihonji Temple, which has more than 1300 years of history.
The temple is built at the top of the mountain and is close to the observation point "Jigoku Nozoki", the "glance into the hell" because of the scary emptiness of almost 400 meters of depths below you. (it is said that people must not approach too much to it to avoid being swept by the underworld!).
There is a place where you will see the biggest statue of the seated Buddha in Japan, more than 30 meters high.
You can also find in the close rising of 1,500 various statues carved more than 250 years ago.
You will be fascinated by those wizardly spectacles that never seen in famous sightseeing spots in Tokyo and outlying cities of Tokyo.
view of Tokyo Bay from Mont Nokogiri
thousands of bouddha statues
Lastly, we will take the bus from Boso Peninsula to Kanaya Port and cross the Tokyo Bay by ferry to Kurihama port.
From Kurihama Station, you could head straight back to Tokyo, or enjoy a dinner in Yokohama.
---
Return details:
The tour ends at Kurihama station
*Sending service to the hotel is available with additional fee.
Important to know

Children must be accompanied by an adult.

Adult pricing applies to all travelers.

Minimum number of participants required for tour departure is one.

A moderate amount of walking is involved; please wear comfortable walking shoes.

Not wheelchair accessible.

Please inform us, at the time of booking, about the participation of any person with reduced mobility or suffering from any condition requiring special needs during the trip.

This tour is not covered by insurance.

Itinerary order is subject to change depending on traffic, weather and operation hours.

In case of traffic congestion or weather or any other uncontrollable reasons that affect the tour schedule and lead to delay in time, schedule change or visit cancellation etc., the tour will not be cancelled or refunded in such cases. Please be noted in advance.

Tokyo Bay Ferry and Mt.Nokogiri Ropeway can be suspended at any time without prior notice due to bad weather or for other security reasons.

Additional informations

Small groups, 8 people maximum. The tour can be customized in the case if there is no other participant on the day of trip.

Please note that public transportation will be used during this tour and seating is not guaranteed.

Please refer to "Travel information" about any useful information.

Pictures are used for illustrative purpose only.

Included

English speaking tour leader

All transportations during the tour

Round trip by ropeway

Tokyo Bay Ferry(from Kanaya port to Kurihama port)

entrance fee of Nihonji Temple

Not included

The insurances

The personal expenses

Meals and drinks not mentioned

Transportations not mentioned (transportation from Kurihama to Tokyo is not included in the tour fee)

Transfers to and from the hotel
*Meeting and/or sending service to the hotel by the tour leader are available with additional fees (each service:5000yen / 1group )

Gratuities (Voluntary)
Dates&Price
Please select &click on the date below to make a reservation.
Travel tips
Related tours